Get practical with your Prayer Life
---
Creating habits takes time and Prayer is no different. If you've seen any of the recent biblical series on Netflix and movie rental systems, you'll see the early disciples praying The Lord's Prayer.
Over and over again, they recite the exact words of Christ as they seek the Lord. But Christ gave us a powerful guideline of how to pray, focusing on God and who He is before looking at our own lives for help.
We all have had seasons where prayer is not part of our daily lives, and when I received the email below, I realised how much value this little app, "Echo" has brought to me in the last year.
I simply list the things on my heart and it prompts me to pray on a schedule I set. It's been great for me to create the habit of persistent prayer. It's helped me to establish a habit of active communication with my heavenly father!
Remember too that we're meant to be praying without ceasing and in the Spirit. Nothing will replace or change that. This is simply a tool to make it easier in a busy world.
How to use the Echo App:
Create Reminders to pray!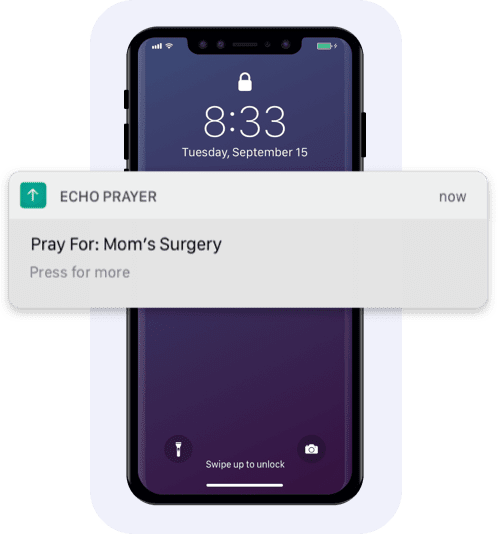 Reminders are the number one tool to make it easy to start a habit of consistent prayer. Consider creating some recurring reminders for specific prayer requests, or create general ones to spur new thoughtful moments of prayer!
---
Stay connected with praying friends!
Surrounding yourself with others who believe in the power of prayer is a great way to keep praying! Echo has created tools for you to engage with your praying friends and family, and encourage each other throughout this next year.
---
Get more friends and family using Echo Prayer.
Having your entire prayer network on Echo makes it super easy to pray for each other, share new prayer requests, and keep each other updated about what God's doing in your life. Take a moment to share Echo with friends or family this week, or share prayer requests with them in the app.
---
Start your prayer habit today to start 2019 off right!
Open Echo Prayer now if it's on your phone. Otherwise, download it for free today!